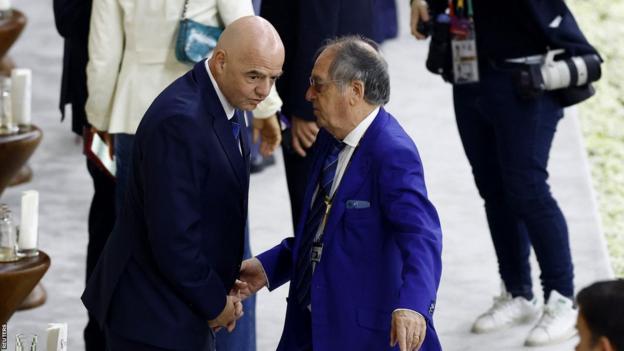 The president of the French Football Federation, Noel Le Graet, has resigned following a damning report against the organization and accusations of sexual harassment.
The 81-year-old Stopped in January The French government conducted an audit of the federation.
"Considering his behavior towards women, his public comments and the governance failures of the FFF, Mr Le Graet lacks the necessary legitimacy to run and represent French football," the report concluded when it was published earlier this month.
It said Le Graet, who has always denied any wrongdoing, should not return to his role because his "excessive conduct was inconsistent with the performance of his duties".
Le Grait, who has been in power for 11 years and will be in power until 2024, has previously faced sexual harassment claims, which he has denied.
There were calls for him to quit over his comments about Zinedine Zidane, who won the World Cup and Euros as a player for France and guided Real Madrid to three consecutive Champions League titles.
Le Graet said he would not take a call from Zidane about becoming France coach first Apologizing for his "clumsy" remarks.
The French government launched an audit in October after becoming aware of allegations of sexual harassment and intimidation at the institution, which the FFF has denied.
Announcing his resignation on Tuesday, the FFF said it "recognises Noël Le Graet's remarkable sporting and financial achievement".
Referring to the audit, it added: "The FFF however notes that the report is based on objective facts, which are sometimes less than comments that have led to exaggerated bad mouthing of the body."
Le Graet took over in 2011, with the men's national team winning the 2018 World Cup and finishing as runners-up at Euro 2016 and the 2022 World Cup.
Before he stepped down earlier this year, Le Great extended Didier Deschamps' contract as national team manager until 2026.
Vice President Philippe Diallo will remain interim president until June while a permanent successor is chosen.
Le Graet has resigned, following women's team captain Wendy Renard and two other players He said he will not play in this summer's World Cup And criticized the country's football "system".
France will play in the Women's World Cup later this summer and Diallo said a decision on head coach Corinne Diacker's future would be made "very soon".