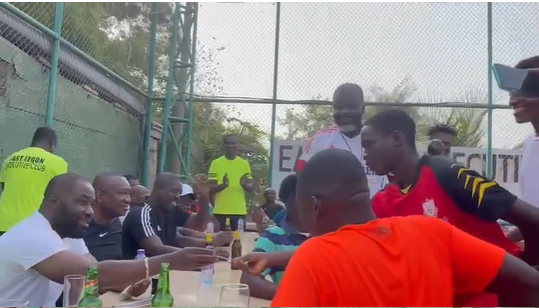 Despite Kwame, Sammy Osi Kufuor and other members of the club participated in the exhibition game.
In a video that has gone viral on social media, businessmen and company owners are seen gifting $100 to each player.
Yaw Dabo can also be heard thanking Kwame for donating to young footballers.
Meanwhile, Ghanaian actor Yaw Dabo believes Cristiano Ronaldo is still the best player even if rival Lionel Messi wins the Qatar 2022 World Cup.
Dabo believes winning the World Cup does not make Messi the greatest player of all time, insisting that status is reserved for Ronaldo.
"A lot of players have won the World Cup, but that doesn't make them great. Otamendi won the World Cup this year, so does that mean he's better than Van Dijk? The comic actor said on UTV.
"It's the same for Ronaldo. He couldn't win the tournament, but still I respect him as the best in the world.
Asked if he believed Ronaldo was better than Messi, he responded: "It's a matter of opinion, we can't all see things the same way.
"Messi has done well to win the World Cup, but I am yet to witness a tournament where one team is awarded penalties in every match. I am talking about Argentina.
Messi cemented his place in football history after leading his country to win the 2022 World Cup in Qatar.
The seven-time Ballon d'Or winner scored twice in the final as Argentina beat France on penalties to lift the coveted trophy.