By 2022, the world is projected to have fully recovered from the Covid-19 pandemic, defined by the scramble for alternative energy sources, which in part led to skyrocketing inflation rates across the globe.
Europe's dependence on Russian liquefied natural gas has become a thorn in Europe's side due to the war between Russia and Ukraine.
The scramble for alternative energy sources has not only affected the oil sector, but the entire economy around the world.
According to the Organization of the Petroleum Exporting Countries (OPEC), 2022 saw central banks around the world revise their monetary policies in an effort to curb inflationary levels fueled by the COVID-19 situation in China and geopolitical developments in Eastern Europe. Both of these contributed to oil market volatility during the year.
In Africa, countries such as Nigeria experienced a sharp decline in oil production due to insecurity and vandalism of oil infrastructure. Production numbers have been falling for months and Nigeria's oil performance has plummeted.
These complications continued throughout 2022, as global production of oil still underperformed in the last month of the year. These complications inevitably affected oil prices and according to OPEC's monthly oil report extract, "Crude oil futures prices fell in December amid heavy selling in futures markets, declines in major equity markets and elevated volatility, offsetting risks related to supply disruptions. Rising global COVID-19 cases in Asia, particularly China, and lower refining margins for gasoline and diesel/gasoil in Europe and the US Meanwhile worries about the economic and demand outlook weigh on oil prices.
The report further elaborates on the lower crude oil prices in December, "They came under pressure from growing concerns of an economic slowdown in major economies, dampening market sentiment about demand outlooks.
Despite these problems, Africa still remains a major oil contributor globally, and oil-rich countries within the continent still collect semblance of the oil quota expected of them.
Below are the top 5 oil producing countries in Africa as of December 2022. The figures below represent oil production in thousands of barrels per day (tb/d). Also these figures are based on secondary sources of OPEC.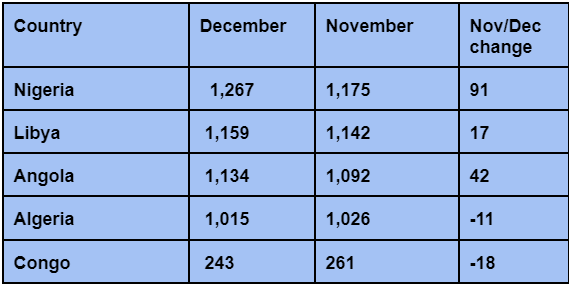 ** This post is part of the Africa Collective initiative, for which Business Insider Africa is the lead media partner. Learn more about the initiative Here.