As of August 2022, Melbet was one of the leading platforms with millions of loyal followers. According to player reviews, Melbet is known for its excellent support and regular payouts, which cannot be said about its competitors.
In September, we first heard about the wave of negative feedback from players. The report mentions issues with account login and withdrawal.
Such positioning at least contradicts the history and positioning of the brand, which has worked successfully in the market for three years.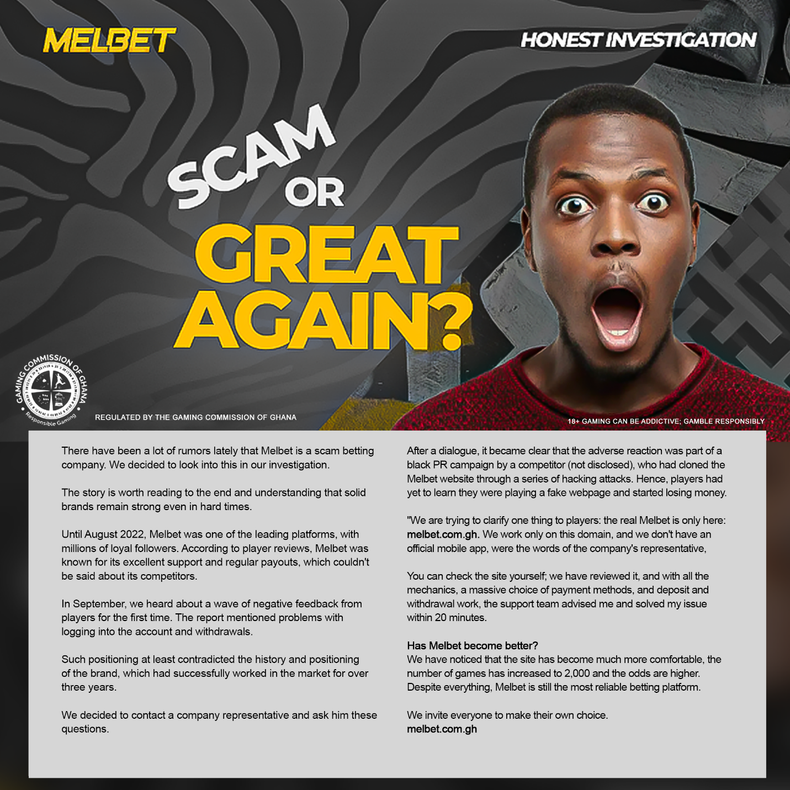 We decided to contact a company representative and ask these questions.
After the conversation, it became clear that the hostile response was part of a black PR campaign by a competitor (undisclosed), who cloned the Melbet website through a series of hacking attacks. So, the players had not yet learned that they were playing a fake webpage and started losing money.
"We are trying to make one thing clear to the players: the real Melbet is only here: melbet.com.gh. We only operate on this domain and we don't have an official mobile app," Company representative's words
You can check the site yourself; We checked it out and with all the mechanics, huge selection of payment methods, and deposit and withdrawal working, the support team advised me and resolved my issue within 20 minutes.
We noticed that the site is more comfortable, the number of games has increased to 2,000 and the odds have increased.
Despite everything, Melbet is still a very reliable betting platform.
We invite everyone to make their own choice.