Now we are in the thick of things Dog days of summer (It's hot out there!), I wanted to share how my beauty routine has changed with the temperature change. During the summer months I wear less makeup. For one, it's hot and the last thing I want to do is put a lot on my skin (other than SPF!). It has to be light or I'm probably not wearing it all. I still want to see them together when we are at the pool or meeting with friends. While SPF is a priority for me year-round, in the summer as a family we wear a fairly safe sunscreen. After all, limiting sun damage is the #1 anti-aging "secret."
Here are a handful of mine Skin and makeup Staples you'll find in my beauty bag this summer.
My summer skin and makeup staples
With the arrival of warmer weather, it's important to keep up with our skin and makeup routines.
For summer, I recommend adding lightweight moisturizers with SPF, tinted moisturizers or BB creams for natural and breathable coverage, and waterproof mascara to withstand hot and humid days. Don't forget to use a facial mist or setting spray throughout the day to keep your skin cool and refreshed.
These summer staples will help you look and feel your best all season long!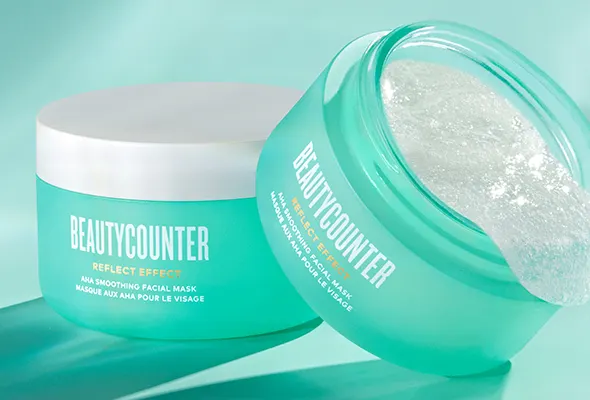 Beautycounter Reflect Effect AHA Smoothing Facial Mask
I'm still in love Mirror effect AHA mask. You can check a Video on how to use the mask in this post. It makes a huge difference in the texture of my skin and I notice a difference for a few days every time I use it. The mask is expensive – that's why I hesitate to order my own! – but it's worth it. If you want to try it without committing to a full-size jar, You can try the mini version here.
Beautycounter Countersun Daily Sheer Defense for Face
The best facial sunscreen (SPF 25) ever! It blends seamlessly and layers well under makeup. It is a zinc-based mineral sunscreen but leaves no white cast. I can't rave enough about it and it's gentle on children's skin.
Beautycounter Dew Skin Tinted Moisturizer
I usually reach for Dew Skin over Skin Twin in summer. It evens out my skin tone in the evenings with a bit of sheer coverage. Plus, it has SPF 20. It's so lightweight and gives off a beautiful glow! Not to mention, Dew Skin's lightweight formula is perfect for hot and humid weather, allowing your skin to breathe while still looking flawless.
Beautycounter All Bright C Serum
It smells like sunshine in a bottle! Beautycounter's Vitamin C Serum is great for all skin types, helping to lighten sun spots and reduce hyperpigmentation. I use this every morning under my moisturizer and immediately notice a difference in my skin. If you try a product, I recommend this one because many users notice a difference right away.
Tarte Eyeshadow Palette
Tarte makes my favorite eyeshadows and they have so many gorgeous palettes. I also have very sensitive eyes and have never had a problem with their makeup. Along with Beautycounter, this is one of my go-to brands.

Beautycounter All Bright Triple Acid AHA Toner
The new Beautycounter AHA Toner is Heerie! I was lucky enough to get my hands on an advanced product sample and it is one of my favorite new products. I'm so excited that I can finally spread the word because I've been using it for the past few weeks with amazing results.
Made with a powerful blend of AHAs, beta hydroxy acid, kombucha and niacinamide, this intensive toner exfoliates skin to reveal a glowing complexion. In addition, it helps refine pores, improve and reduce the appearance of pores.
Beautycounter Brilliant Brow Gel
I wear eyebrow gel almost every day. I use the medium shade and it helps me put it together quickly. It is worth noting that the brow gel is also long-lasting. So, you can be confident that your brows will stay in place all day.
Beautycounter Beyond Gloss
While I usually save my darker, more pigmented lip shades for fall and winter, I'm all about these glosses come spring and summer. They are very shiny and never sticky and have a subtle hint of ethically sourced vanilla. They are made from pure ingredients, so I don't have to worry about Liv stealing them. 😉
Isle of Paradise Self-Tanning Drops
I've been using these for a couple of years and I love that they give a natural color – not orange-y. You can customize these by the number of drops you add to your body moisturizer for a darker or lighter tone. I like 6 drops of body lotion and add 4 drops to my face moisturizer.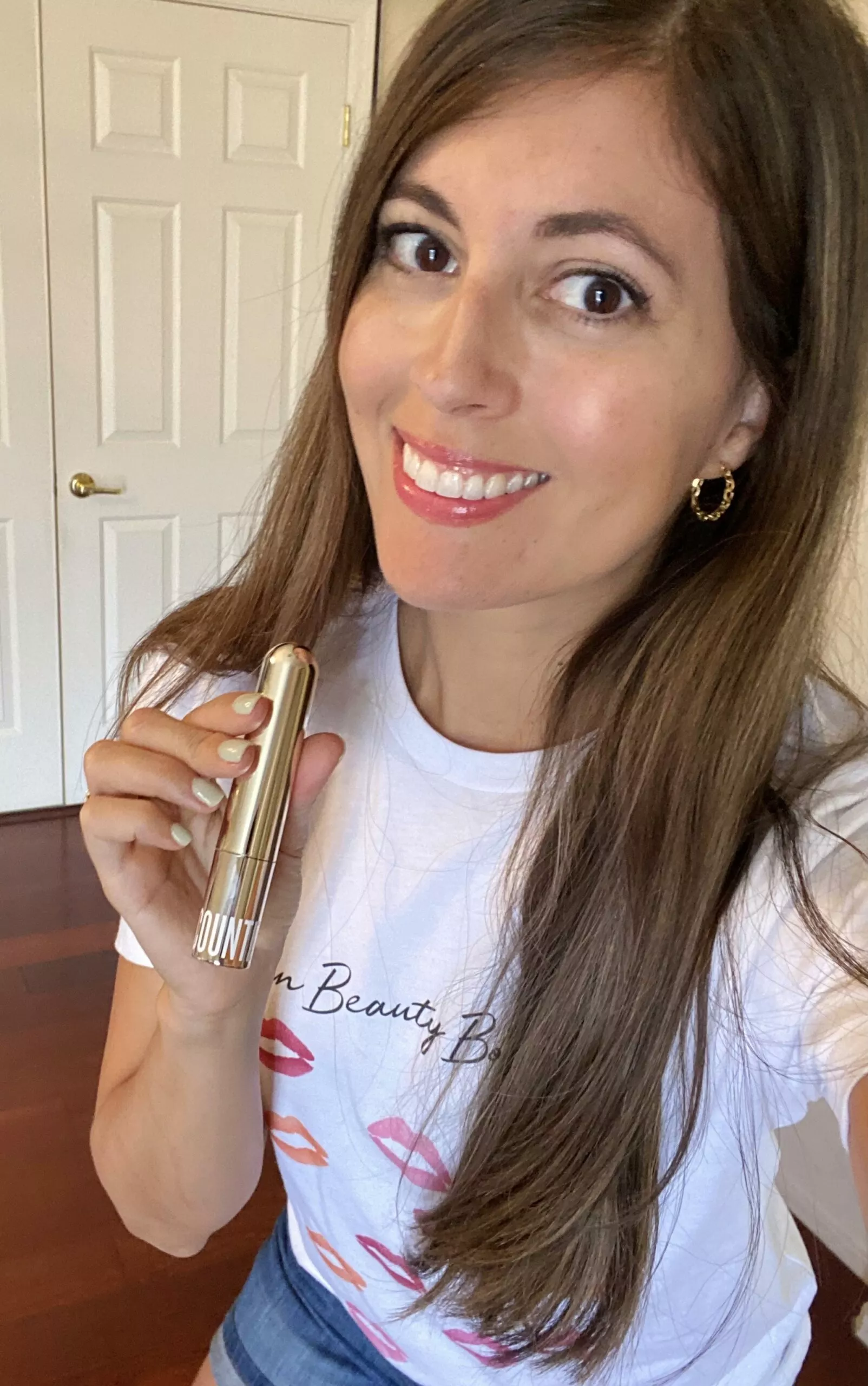 Beautycounter Think Big All-in-One Mascara
If you're on the hunt for a new mascara, you should check out the Beautycounter Think Big All-in-One Mascara. As a regular user of this, I can confidently say that the new formula is a game changer!
I've been a fan of Beautycounter for a while now, but I have to admit that the formula behind their mascara just didn't live up to my expectations. That's why I was thrilled to hear that they've revamped it, and let me tell you, the new formula is seriously impressive. I will give a more in-depth review of the mascara Here!
Summer skin care tips
Now…with the summer heat in full swing, it is important to take care of your skin with the right skin products.
Especially if you have oily or acne-prone skin, you should choose products that are lightweight and won't clog pores and cause breakouts. I also look for products that contain active ingredients like hyaluronic acid to keep your skin hydrated and healthy. And of course, don't forget to protect yourself from the sun!
Choose a broad-spectrum sunscreen with at least SPF 30 to protect your skin from harmful UV rays and free radicals that cause sun damage. If you plan to spend a lot of time in the sun, consider using a tinted sunscreen of SPF 50 or higher for extra protection. And always remember to reapply every two hours if you're outside. For the best advice on skin and sun protection, consult a board-certified dermatologist. They can help you find the right products and routines to keep your skin looking and feeling its best all summer long.
If you have dry skin, consider using water-based products to hydrate your skin without feeling heavy or greasy. with force Skin care routineYou can enjoy summer without worrying about damaging your skin.
Glow this summer with expert skin and makeup guidance!
As spring winds down, it's time to start thinking about skin care and makeup staples that will get us through the heat and humidity.
By adding lightweight moisturizers, sunscreens with high SPF, and other nourishing products to your daily regimen, you can keep your skin healthy, hydrated, and glowing all summer long.
In short, I recommend consulting with a board-certified dermatologist if you're not sure how to go about your summer skin and makeup routine. Make sure they help you come up with a routine customized to your specific needs. These experts can guide you in choosing products that are safe and effective in protecting your skin from harmful sun exposure that can cause damage and premature aging.
So, invest in your skin this season and enjoy all the fun under the sun with confidence and peace of mind.
New to Beautycounter? 30% off your first order using code CLEANFORALL30.
Tell me, friends: What are your favorite summer makeup and skincare staples?
You may also enjoy: