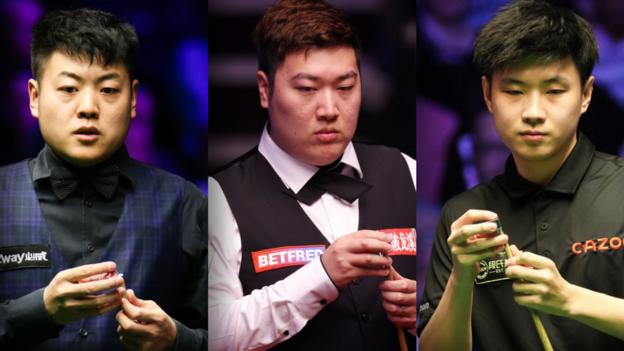 Ten Chinese players face match-fixing charges as snooker's governing body investigates the sport's biggest corruption scandal.
The charges include rigging games, approaching players to cheat, betting on snooker and match fixing.
In October, Liang Wenbo was suspended by the World Professional Billiards and Snooker Association (WPBSA).
Nine others followed, including 2021 Masters champion Yan Bingtao and UK Championship winner Zhao Xintong.
Both players were banned from last week's Masters.
Players found guilty of the charges against them face lengthy bans from the sport.
Most players have not publicly commented on the allegations, although Wenbo has reportedly denied match-fixing.
An independent inquiry will now be called to consider the evidence.
It is understood that there is no separate police investigation at this stage.
What are the charges?
Liang Wenbo – Age: 35 Ranking (January 2023): 56. Finalist at the 2015 UK Championships
He has been charged with match-fixing and approaching players to fix matches on the World Snooker Tour, obstructing a WPBSA investigation and failing to co-operate with an investigation.
Li Hang – Age: 32 Ranking: 64.
Concerned with fixing matches and contacting players to fix matches, attempting to obstruct investigations and betting on snooker matches.
Lu Ning – Age: 29 Ranking: 46. ​​Semi-finalist at the 2020 UK Championships.
He was charged with match fixing and dealing with match fixing and contacting a player to fix a match, obstructing an investigation and betting on snooker matches.
Yan Bingtao – Age: 22 Ranking: 16. First player born in 2000 to turn professional, win 2021 Masters.
Accused of fixing matches and betting on snooker.
Zhao Xintong – Age: 25 Ranking: 9. Won 2021 UK Championship and 2022 German Masters.
Allegedly involved in match fixing and betting in snooker.
Zhang Jiankang – Age: 24. Ranking: 82.
Accused of match fixing, failure to report fixing of matches and methods of betting on snooker matches.
Chen Zifan – Age: 27. Ranking: 93.
Allegation of match fixing.
Chang Bingyu – Age: 20 Ranking: 77.
Alleged match fixing.
Zhao Jianbo – Age: 19 Ranking: a hobbyist
Alleged match fixing.
Bai Langning – Age: 20. Ranking: 126.
It has been alleged that there was concern in fixing the match.
The WPBSA said it concluded the players had a case to answer following an investigation by its integrity unit, working closely with sports technology company Sportradar, which monitors betting.
"The players are currently suspended from participating and competing on the World Snooker Tour and other WPBSA-governed events pending the conclusion of a hearing or inquiries and resolution of this matter," a statement said.
"The matter will be referred to a formal hearing before an independent disciplinary tribunal, which will take place at a place and date to be confirmed."
Sign up for my sport To follow snooker news on the BBC app.