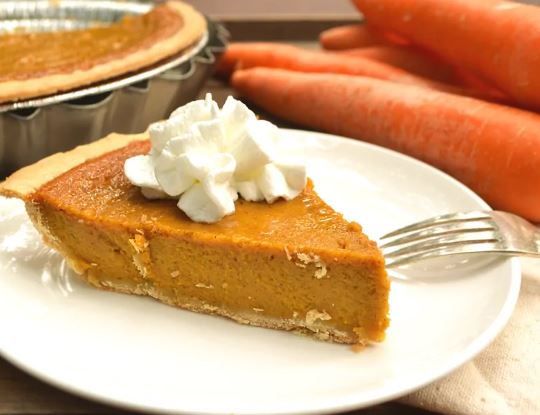 1 (9-inch) unbaked pie shell
1 teaspoon ground cinnamon
1 teaspoon vanilla extract
Preheat the oven to 400 degrees F (200 degrees C). Press pie crust into bottom and sides of 9-inch pie plate.
Bake the pie shell for 3 to 5 minutes to firm it up, then remove it from the oven and set aside. Cover the carrots with plenty of water in a saucepan. Bring to a boil and cook until tender, about 10 minutes. Using a food processor or potato ricer, drain the water and mash the carrots until smooth.
In a medium bowl, mix together the carrot puree, sugar and eggs. Mix in the cinnamon and vanilla. Gradually stir in the milk. Pour the mixture into the partially baked pie shell.
Bake in the preheated oven for 10 minutes, then reduce the heat to 350 degrees F (175 degrees C). Bake for an additional 40 to 45 minutes on low heat or until firm.
Cool completely before serving.