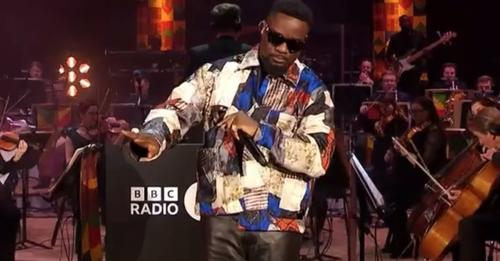 After a conversation with Bob Marley's team, the Sarkess music boss revealed that he almost passed on it.
According to the 'Landlord' hitmaker, he was hard on himself because he thought Bob Marley wasn't the right person to collaborate with, but his manager told him it was a great opportunity.
"When we got the email, I passed it almost out of respect. I didn't think I deserved to put my vocals next to a legend. I was really hard on myself and my manager said it's a great opportunity but the artist side of me thinks more about the art and more about the opportunity, so I Didn't hear anything. I thought I'm not the right person to put my vocals next to a legend. He revealed.
However, he saw it from the artist's side and not chance but had a change of heart when he heard Bob Marley's original vocals in the studio, which he called "spiritual".
"Then, he sent the record and we opened up his vocals and when he recorded it it was his real vocals and I was listening to it in the studio, I captured it on camera because it was so spiritual in that moment." he added.
He revealed that he had to record four versions before choosing the right one as he felt that the message in his lyrics should be worthy of the legend.
"I think I liked 4 verses and I had to pick the right one. All I'm saying is, I'm like, I'm saying it next to Bob Marley, it feels like me and him in the booth. Like you can't…There are certain people that draw me like that when I'm working with them, that inspire me to rap. The man, Obrafur, he's a rapper, he's never cursed, he's never used profanity, and he's a young man, I don't know how he could do it. I tried but it's hard to like the new generation because it's so censored, you want to say what you feel. He concluded.
The new version of 'Stir It Up' by Bob Miley and The Wailers featuring Sarkodie was officially released on Friday, January 20, 2023 and is available on streaming platforms.