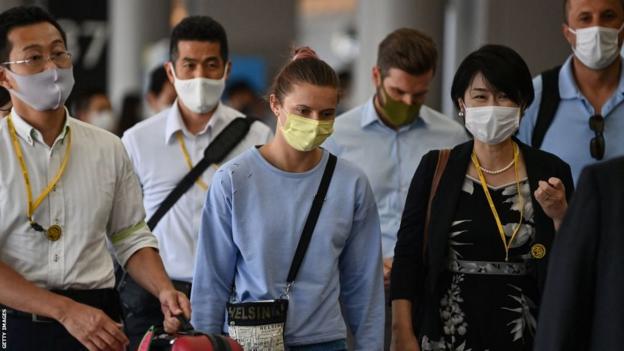 A Belarus athletics coach has been charged with misconduct after trying to force an athlete to fly home from the Tokyo Olympics.
The sprinter received police protection after expressing fears for his safety and was later granted asylum by Poland.
Yuri Micević was charged with three offenses by the Athletics Integrity Unit (AIU).
The AUI alleged that Mycevic, who was Belarus' head coach at the Tokyo Games, "verbally and mentally harassed".
Coach Artur Schumacher was also investigated and not charged.
"The AIU alleges that, in connection with these circumstances leading to the removal of Simanauskaia from the Olympic Games, Micevich acted with integrity and acted in bad faith; failed to protect the dignity of the athlete and that his actions constituted verbal and psychological harassment. Athletics in general has been brought into disrepute," the Integrity Unit said.
"The AIU's core role is to protect athletes and protect them from harassment. The AIU has thoroughly investigated the matter and considered there was a case to answer for a breach of the Integrity Code of Conduct," AIU chief Brett Clothier said.
After some teammates were found ineligible to compete, Belarusian officials briefly entered the 400-meter relay event, Simanauskaya posted a video online.
State media criticized her after posting the clip, with one television channel saying she lacked "team spirit".
She said she was given an hour to pack her bags before officers came to her room and escorted her to Tokyo's Haneda Airport.
Belarusian officials said Simanauskaya was removed from the team due to her "emotional and mental state".