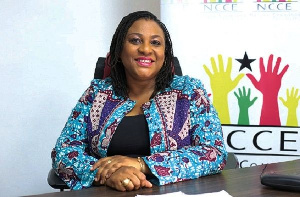 Madam Nkrumah said in a letter to the Liberian Ministry of Justice that a Facebook user identified as Carson had posted on the social media platform, demanding that the Monrovia mayor be sent "six feet down", reports 3News.
According to a Facebook user, the killing of the ECOWAS ambassador will draw the international community's attention to the insecurity in Liberia.
However, Madam Nkrumah is not taking the matter lightly and has therefore complained to the Liberian authorities.
Liberian authorities are expected to act quickly on the complaint by fishing out and arresting these Facebook users and strengthening security for Madam Nkrumah.
He resigned from the NCCE last year to take up the ECOWAS job and was later replaced by Kathleen Addy.
While swearing in the new NCCE boss at Jubilee House on Thursday, June 16, President Akufo-Addo denied that the commission's independence had been compromised by political regimes.
"Madam President, I need not remind you that you are not under the direction or control of any person or authority in the performance of your duties, including myself as the Executive Head," he said.
The Commission works to promote and sustain democracy and educate the citizens of Ghana about their rights and obligations through civic education.