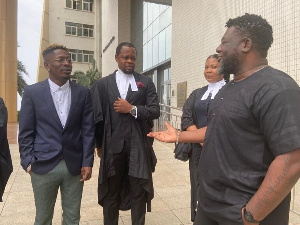 The plaintiff, Bulldog, seeks damages for alleged defamation and damages for the defendant's malicious publication of falsehoods against it.
In court on Tuesday, March 7, 2023, Dr. The plaintiff's counsel, led by Justice Shrim-Sai, told the court that the parties have started negotiations for a settlement and need one month's time.
Justice Joseph Adu Agyemang Owusu, who presided over General Jurisdiction 13 of the Accra High Court, after hearing the parties, encouraged them to settle the matter out of court.
On 2 November 2022, Shatta Wale made an announcement on his Facebook page that his former manager Bullgod, among others, was involved in the murder of artiste manager Fennec Okyere.
Fenech Okyere was Kese Kwaw's manager.
He was murdered by unknown assailants on Thursday, March 13, 2014 at his Manet Gardens residence on Spintex Road, Accra.
The plaintiff is seeking the following reliefs
A declaration by the court that the series of publications made by the defendant as specified in the statement of claim is defamatory to the plaintiff.
A declaration by the court that the series of publications made by the defendant in the statement of claim was malicious.
The court order directs the defendant to publish on all social media pages or accounts within seven (7) consecutive days a disqualification retraction and an unreserved apology for the defamatory words the defendant has published about the plaintiff, such retraction and apology to be reviewed and approved by the plaintiff's attorney.
A court order for a permanent injunction restraining the defendant, his agents, workmen, assigns and servants from publishing or publishing any defamatory words against the plaintiff.
General damages for defamation.
Special damages for defamation.
Punitive damages against plaintiff for malicious publication of falsehood.
costs, and any other orders or remedies the court may deem fit.