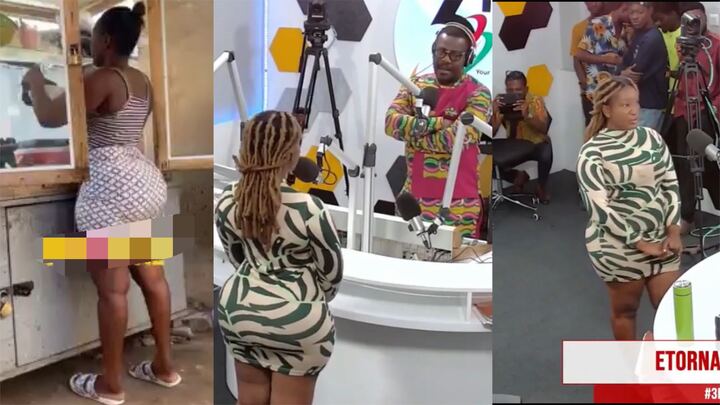 After seeing how natural Etornam is, netizens have fallen for her diet joint and hard work, as many point out that some girls with curvy bodies like to be a slay queen without working out.
Etornam made it to Media General today, where he was interviewed on 3FM and also appeared on TV3.
The show's host, Johnny Hughes, asked the Viral Beans seller what he thought of young women with curvy bodies going to 'hook up' to sell their bodies to men and he said "It doesn't help me".
"When you get something to do on your own, it's more profitable than using your body to get money and things from men. In the end you're going to get diseases and stuff so it doesn't make sense to me" she added.
An excerpt from an interview shared by award-winning Ghanaian blogger, Sika on his official Twitter account has generated mixed reactions. "Beauty with brains.. she day hold o" he replied.
"But the body attracted 3fm. And the video maker clearly says that we want to see the body well in this video. Some sell only their body, some sell the body and something else. Choose your sales and let others choose theirs," one tweep added.
"Not many bean sellers interview him, so why her?Another Twitter said the interview was the subject of discussion on the Bluebird app. Watch the video below and share your name with us.