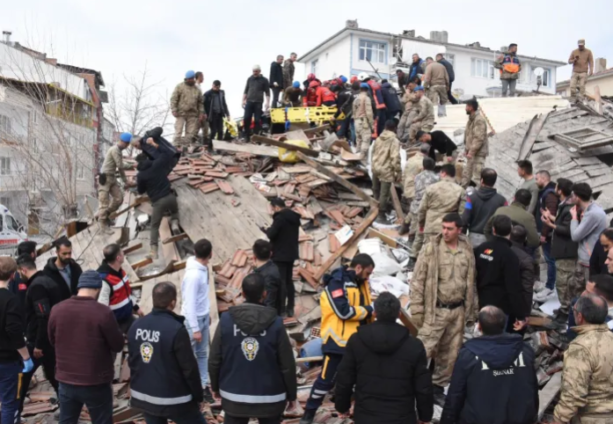 The latest quake was centered in the town of Yesilurt in Malatya province, the country's disaster management agency (AFAD) said, adding that one person was killed when a factory collapsed in Kahramanmaras, the epicenter of the 7.8-magnitude earthquake that struck the region in February. 6 and 69 injured.
Mehmet Sinar, mayor of Yesilurt, told Haberturk television that several buildings collapsed in the town, including a four-story building where a father and daughter were trapped.
Sinar said the pair entered the damaged building to collect belongings.
Television images showed the man being carried to an ambulance on a stretcher while rescue teams tried to reach his daughter inside the damaged building.
Al Jazeera's Teresa Bo, reporting from Gaziantep, said the quake was also felt by people living in makeshift camps after being displaced by previous quakes.
"The earthquake was also felt in the center of Gaziantep, where those affected by the February 6 earthquakes are now living in tents. This again caused fear and suffering," Bo said.
The United Nations says at least 1.5 million people have been displaced in southern Turkey, with more than 500,000 homes in need of reconstruction.
About 10,000 aftershocks have been reported since February 6, according to AFAD.
Last week, Turkey said about 865,000 people were living in tents and 23,500 in container homes, while 376,000 were in student dormitories and public guesthouses outside the earthquake zone.
The latest earthquake comes days after Turkey launched an operation to relocate people living in tents to container cities, with 15,000 people scheduled to move into containers in the first phase.
Turkish authorities have widened a criminal investigation into those responsible for buildings leveled by a deadly earthquake that left millions homeless.
The government has also been accused of lax safety enforcement before the earthquakes.
Source: Al Jazeera and news organizations