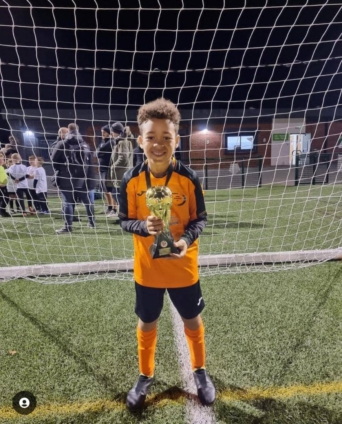 In a post on her Instagram stories, Atsu's widow Marie-Claire Rupio shared a photo of her son holding the Pro Motive 8 trophy.
Marie-Claire captioned the photo "making his dad proud", with many of his followers wishing Joshua a successful football career.
Above the person wrote: "Go for the gold champ. Your father will surely be proud of you. Another said: "With Christ in Joshua's ship you laugh at the storm. That will be good boy. "
A third follower added: "Congratulations little champ. Your father always looks down on you and your siblings and mom. Keep their football passion alive. God bless you abundantly. "
Atsu was confirmed dead on February 18, 2023, after his lifeless body was pulled from the rubble following an earthquake in Turkey.
It follows days of intense searching after a devastating earthquake hit Turkey and Syria two weeks ago.
Tributes have poured in from far and near with many expressing their condolences to the footballer's family and loved ones.
Atsu's body arrived in Ghana on February 19, with a small ceremony held at the Kotoka International Airport VIP lounge to welcome the body.