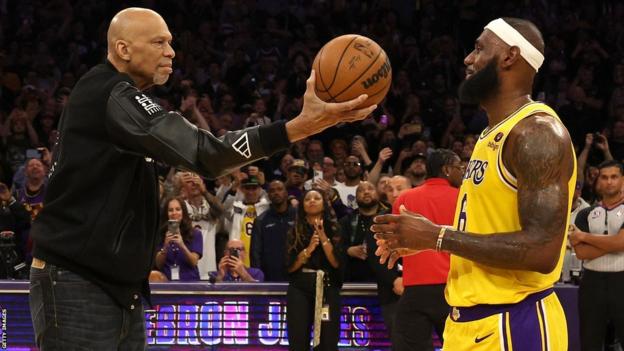 LeBron James has passed Kareem Abdul-Jabbar's 39-year-old record as the NBA's all-time leading scorer.
Los Angeles Lakers star James, 38, scored 38 points in a 133-130 loss to the Oklahoma City Thunder to surpass Abdul-Jabbar's mark of 38,387.
Abdul-Jabbar initially broke the scoring record in April 1984, eight months before James was born.
"Being in the presence of a legend like Kareem and being able to be great, that means a lot to me," James said.
James, who needed 36 points to break the record, did so with a fadeaway jumper late in the third quarter, and he finished the game with a career total of 38,390.
An emotional James raised both hands in celebration as the 75-year-old Abdul-Jabbar gave a standing ovation during a game on the Lakers' home court.
With James taking the microphone to address the court, there was a brief pause in the drama for a ceremony to recognize the achievement.
"Everyone who has been a part of this race with me over the last 20-plus years, I want to say a big thank you because I wouldn't be me without you all. You all helped. Your passion and sacrifice helped me get to this point," he said.
"And to the NBA, to Adam Silver, to the late great David Stern, thank you so much for allowing me to be a part of something I've always dreamed of. I never in a million years dreamed it would be better than this. Tonight."
Abdul-Jabbar ceremoniously handed the ball to James to mark his new record in front of an audience that included tennis legend John McEnroe, music stars Jay-Z, LL Cool J and Bad Bunny, boxer Floyd Mayweather Jr. and actor Denzel Washington.
"I thought it had every chance of breaking out," said Abdul-Jabbar, who retired in 1989.
"LeBron's career has been one of the guys that projected to dominate this game. You have to give him credit for the way he played and the way he ended up and dominated."
A four-time NBA champion, James was drafted first overall in 2003 by the hometown Cleveland Cavaliers, in his 20th season in the NBA.
The forward joined the Miami Heat in 2010, won two titles, returning in 2016 to lead Cleveland to its only NBA title in their history.
He has been with the Lakers since 2018 and helped them win the 2020 title, the fourth time he was named NBA Finals MVP.
A two-time Olympic champion, James has won four regular season MVP awards and appeared in the NBA Finals 10 times.
Abdul-Jabbar played 20 seasons in the NBA with the Milwaukee Bucks and Lakers, during which he won six titles, six regular season MVP crowns and was named Finals MVP twice.
Asked after the game if he was the greatest NBA player of all time, James said: "I'll let everybody decide who he is or talk about it, but it's a good barber's debate.
"Me personally, I'm going to take myself against anyone who has played this game. But everyone decides who their favorite is."
the player

Pt

played

minutes

Points/Game

LeBron James

38,390

1,410

53,741

27.2

Kareem Abdul-Jabbar

38,387

1,560

57,446

24.6

Karl Malone

36,928

1,476

54,852

25.0

Kobe Bryant

33,643

1,346

48,643

25.0

Michael Jordan

32,292

1,072

41,010

30.1

Dirk Nowitzki

31,560

1,522

51,367

20.7

Wilt Chamberlain

31,419

1,045

47,859

30.1

Shaquille O'Neal

28,596

1,207

41,917

23.7

Carmelo Anthony

28,289

1,260

43,513

22.5

Moses Malone

27,409

1,329

45,071

20.6
James holds the record for being the youngest player to reach every milestone from 5,000 to 35,000.
He passed six-time NBA champion Michael Jordan for fourth overall in March 2019 and Lakers great Kobe Bryant for third all-time in January 2020.
James then surpassed Karl Malone for second place in March of last year, a month later he beat Abdul-Jabbar's record. The NBA's official all-time scoring list takes into account only regular season points.
James, a 19-time All-Star, scored 23,119 points in 849 games for the Cavaliers in 11 seasons across two spells.
He scored 7,919 points in 294 games over four seasons for the Heat and now has 7,314 points in 266 games over five seasons for the Lakers.
James is also on the all-time top-10 lists for assists, steals, defensive rebounds, field goals made and three-pointers made.
'You Raised The Game' – LeBron James Tributes
US President Joe Biden: "Congratulations, LeBron. You broke a record with all your heart and soul. You elevated the game. More than that, like Kareem, Bill Russell and others before you, you challenged and inspired the nation to be better. Do well and live up to our full promise."
Los Angeles Lakers Great Magic Johnson: "I never thought anyone would break Kareem's scoring record. It means a lot to me and our fans because you put on that purple and gold and broke it as a Laker. This historic moment is so special because we'll never see another LeBron James."
NBA Commissioner Adam Silver: "It's a monumental achievement that speaks to his continued excellence over 20 seasons in the league. And amazingly enough, LeBron continues to play at an elite level and his basketball history is still being written."
Golden State Warriors guard Stephen Curry: It's incredible to have reached this pinnacle in your constant game of basketball for 20 years. Down the road, as we reflect back on our careers, we will be able to stay at that level by knowing what it was like to fight at the highest level.
Brooklyn Nets forward Kevin Durant: "It's funny to even say that, you know where you come from, how hard you've worked for so long. It's been an inspiration since day one. So much love and set the bar high."
Timeline of success
26 June 2003 – Drafted first by the Cleveland Cavaliers
30 October 2003 – Debuted against the Sacramento Kings at age 18, recording 25 points, nine assists, six rebounds and four steals
20 February 2005 – Makes All-Star Game debut, first of 19 appearances
7 June 2007 – Made first NBA Finals appearance for Cleveland, losing to San Antonio Spurs
24 August 2008 – Won Olympic gold with the USA at the Beijing Games
4 May 2009 – wins the first of his four regular season MVP titles
8 July 2010 – Joins the Miami Heat after seven seasons with the Cavaliers
21 June 2012 – Wins first NBA championship with Heat and captures first of four Finals MVP awards
12 August 2012 – Won second Olympic gold at the London Games
20 June 2013 – Became back-to-back NBA champions with the Heat
11 July 2014 – Returns to Cleveland after four seasons in Miami
19 June 2016 – Led the Cavaliers from a 3-1 deficit to win their first NBA Championship against the Golden State Warriors
9 July 2018 – signs for the Los Angeles Lakers after four years in a second-tier stint in Cleveland
11 October 2020 – Captured his fourth NBA title by defeating the Miami Heat, becoming the first player to win Finals MVP for three different teams
8 February 2023 – Passes Kareem Abdul-Jabbar to become the NBA's all-time leading point scorer
LeBron James' record-breaking moment – in pictures