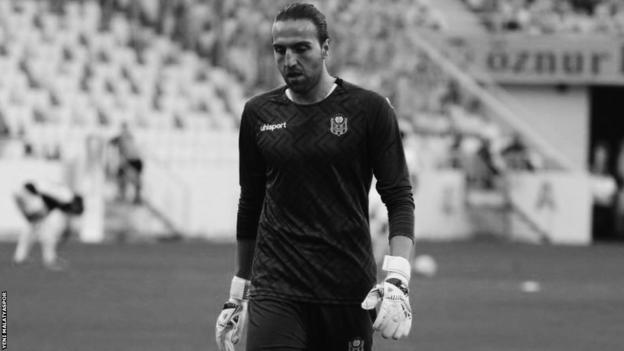 Turkish goalkeeper Ahmet Ayup Turkaslan has died following Monday's earthquake in his homeland, his club Yeni Malatyaspor has confirmed.
"Our goalkeeper, Ahmet Eup Turkslan, lost his life after the earthquake collapse. Rest in peace," the club said on Twitter.
"Beautiful man, we will not forget you," it added.
Turkslan, 28, played six times for Turkish second division club Yeni Malatyaspor after joining in 2021.
Former Crystal Palace and Everton winger Yannick Bolasie, currently playing for Turkish second-tier side Kaykur Rijespor, said on Twitter: "RIP brother Eyup Ahmet Turkaslan. One moment you see someone in the dugout, the next they're gone."
Bolasie added: "My condolences to all his family and teammates at Yeni Malatyaspor. Devastating to hear and wish we could all continue to help those in need."