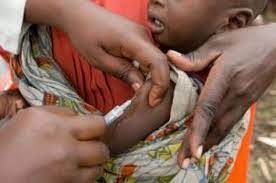 So far, the disease was first detected in four districts, including Karaga, Pansurigu, Tamale and Gushegu.
A City News report shows that the region is currently running out of measles vaccines.
A statement issued by the Regional Health Directorate to all District Health Directors further confirmed the measles cases.
It said further "With the current season presenting high risks for measles transmission, district health directorates and facilities (both public and private) are urged to intensify surveillance for prompt action in case of outbreaks of measles and other diseases of infectious potential.
Districts and facilities are kindly requested to conduct prompt investigations and collect blood samples for laboratory confirmation. You are expected to continue intensifying public education on the prevention of measles and other communicable diseases.
The memo continued "All MM/DDHS should ensure that their Measles Epidemic Preparedness and Response (EPR) plans are updated accordingly and submit copies to the Regional Health Directorate through the Disease Surveillance Unit on or before Friday, February 10, 2023."
Although there have been severe cases in some health centers where children have had to be put on oxygen, there have been no deaths from the outbreak.
Research shows that measles is a serious viral infection in young children but is easily preventable with a vaccine.
The disease is spread through the air by respiratory droplets produced by coughing or sneezing.
Measles symptoms do not appear until 10 to 14 days after exposure. They include a cough, runny nose, inflamed eyes, sore throat, fever and a red, blotchy skin rash.