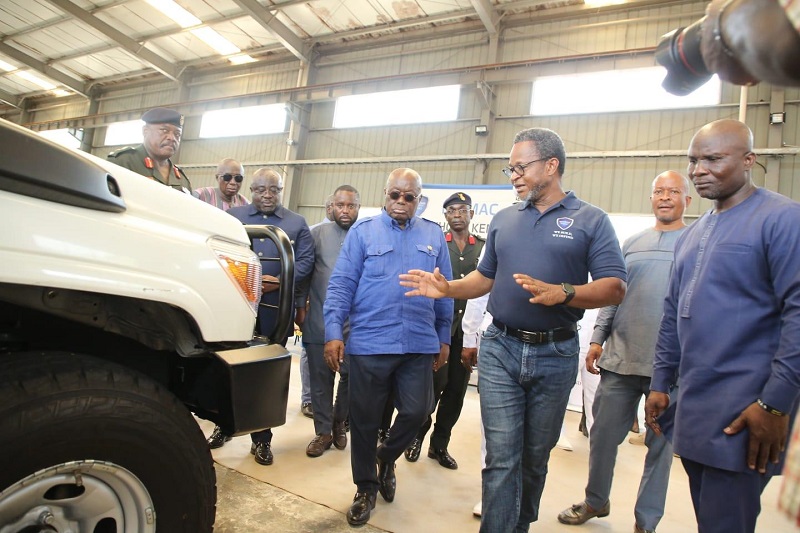 The first four vehicles assembled by DIHOC- KENAKI Manufacturing Company Limited (DIKMAC) at its armored vehicle assembly facility at Burma Camp in Accra are now ready for use.
Defense Industries Holding Company Limited (DIHOC), the private business arm of the Ghana Armed Forces (GAF), and Kenaki Manufacturing Company Limited have formed a joint venture company (JVC) called DIKMAC.
This was discovered on Wednesday when President Nana Addo Dankwa Akufo-Addo inspected the cars as part of the handover ceremonies for GAF's 2022 year-end gathering.
The armored vehicles will soon be on the roads, DIKMAC Managing Director Kenneth Akibete told The Ghanaian Times that the bank has already arranged to buy one.
"The urgent need to find a solution to attacks on bullion vans by armed robbers led to the necessary intervention to deploy locally armed bullion vans at this plant to help protect the lives of police escorts, bank employees and cash and other valuables in transit. ," Managing Director opined.
An on-duty police officer has been killed and several people injured in bullion van attacks that have been going on for the past three years.
Through its networks, the Kenaki team, Mr. According to Akibat, it was able to secure technical support for the installation of the plant from Israel Aerospace Industries (IAI), the country's largest state-owned defense industrial complex.
According to him, DIKMAC, in collaboration with GAF, provided a solution to address the CIT problem facing the banking industry in Ghana in 2021 when the issue of armed attacks on bullion vehicles becomes a national tragedy.
Additionally, he noted that DIKMAC is ready to retrofit "soft-skinned" CIT vehicles to existing CIT companies in line with Bank of Ghana's armoring requirements. The CIT will be accompanied by a control center that will monitor and track the trucks across the country, he said.
According to Mr. Akibete, interactions with many stakeholders including the Bank of Ghana, the Ghana Police Service and the Ghana Association of Bankers led to the Armed Forces Council approving DIKMAC's CIT.
According to the Director General of Defense Industries Limited, Brigadier General William Agyapong, the project is part of efforts to make the forces self-reliant because it has the goodwill, people resources and technical know-how to do so.