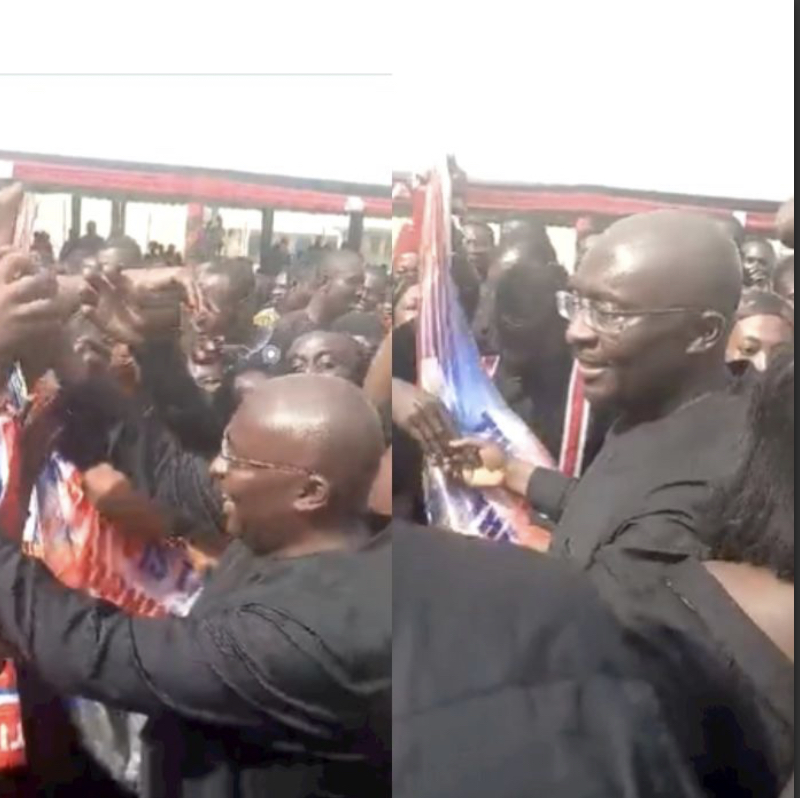 This unorthodox nature is paying dividends for Bawumia in more ways than one. At a point where the country is facing several challenges and politicians are unpopular, Bawumia seems to buck the trend.
Over the weekend, the vice president unwittingly managed to turn the funeral into a rally ground as he was thronged endlessly by attendees at the funeral of his late mother, Dr Dominic Eduah.
The Executive Director of GNPC Foundation performed the last rites of his late mother at Azumaco in Madhya Pradesh.
Veep appeared at the funeral with a few other NPP members, but the crowd was visible when his presence was announced.
He was constantly mobbed by enthusiastic funeral attendees as the program was temporarily turned into a rally ground.
Samira Bawumia who was accompanied by her husband also received tons of cheers.
A cheering crowd signaled approval of Dr Bawumia's expected presidential bid.
Dr Bawumia is used to rousing the crowd of late.
A few weeks ago, Bawumia was hailed by cheering crowds in Tamale after he single-handedly funded the renovation of Tamale's Central Mosque.
Bawumia handed over the completed project to the mosque's leadership, including the regional chief imam, Sheikh Abdul Salam.
At the ceremony, the mosque's leadership thanked Veep for his selfless act, while the crowd hailed him as a hero.
Bawumia is expected to contest for the NPP flag bearer position, although he is yet to formally announce his intentions.
He faces stiff competition from former Trade Minister, Alan Kyremanten, Assin Central Member of Parliament, Kennedy Agyapong and others.
However, while Bawumia is yet to formally announce his bid, many political observers place him as a firm front-runner for the seat and videos like these prove how he evokes completely different reactions among voters than his other contenders.